Welcome to the Schlock Treatment Wikia
Edit
Schlock Treatment is a weekly podcast celebrating the world of horribly, horribly painful cinema.
Each week, hosts Marc, Doug, Kirk & Matt cover a new (to them) piece of shockingly bad schlock in an effort to help them (and their listeners) manage their self-esteem issues.
Each week a "treatment" is assigned, usually a movie that is streaming online. Listeners are invited to watch the film, listen to the podcast, and join in the discussion on each film's comments section on the Schlock Treatment website.
This wiki is open to all fans of Schlock Treatment, old and new. Feel free to help us add new details and pages, and help us get the word out about this awesome show!
Latest activity
Edit
Photos and videos are a great way to add visuals to your wiki. Find videos about your topic by exploring Wikia's Video Library.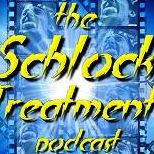 Ad blocker interference detected!
Wikia is a free-to-use site that makes money from advertising. We have a modified experience for viewers using ad blockers

Wikia is not accessible if you've made further modifications. Remove the custom ad blocker rule(s) and the page will load as expected.